A prominent company in the financial sector, handling vast daily transactions and customer interactions, had a growing IT infrastructure to support its expanding global operations. However, the sheer scale of its operations led to recurrent IT challenges, impacting employee productivity and customer satisfaction.
Total investment raised after app development
User interactions with the AI chatbot per month
Successful Identity Verifications on First Attempt
Enhancement in User Engagement Rates
Reduction in Backend Operational Delays with RPA
Introducing Alpha - A Beautiful Custom Built Fin-tech Application
In the quest to redefine the fintech landscape, the financial services startup envisioned a revolutionary application, Alpha. But the road to innovation was paved with complexities. The primary challenge was seamlessly integrating a human-like AI chatbot that could serve varied financial needs without making it feel artificial and adding cost burdens of adding manpower. Moreover, real-time identity validation with top-notch security and facilitating diverse investment options without overwhelming the users added layers of intricacy. To top it all, ensuring global regulatory compliance while pushing technological boundaries was crucial. The challenge was not just about integrating advanced features but doing so in a manner that was user-centric, secure, and efficient.
Alpha - An Elegant Engineering Masterpiece
We approached these challenges with our arsenal of expertise, head-on. We harnessed the power of Generative AI to craft a chatbot that wasn't just functional but also engaging and dynamic, making financial interactions delightful. We created an innovative AI-driven identity verification ensured user security without compromising onboarding efficiency. Through state-of-the-art mobile development techniques, the intricate investment features were made accessible and user-friendly. Robotic Process Automation streamlined backend operations, and the inclusion of blockchain bolstered transactional security. Our holistic solution transformed Alpha from a mere concept into a VC funded powerful fintech reality.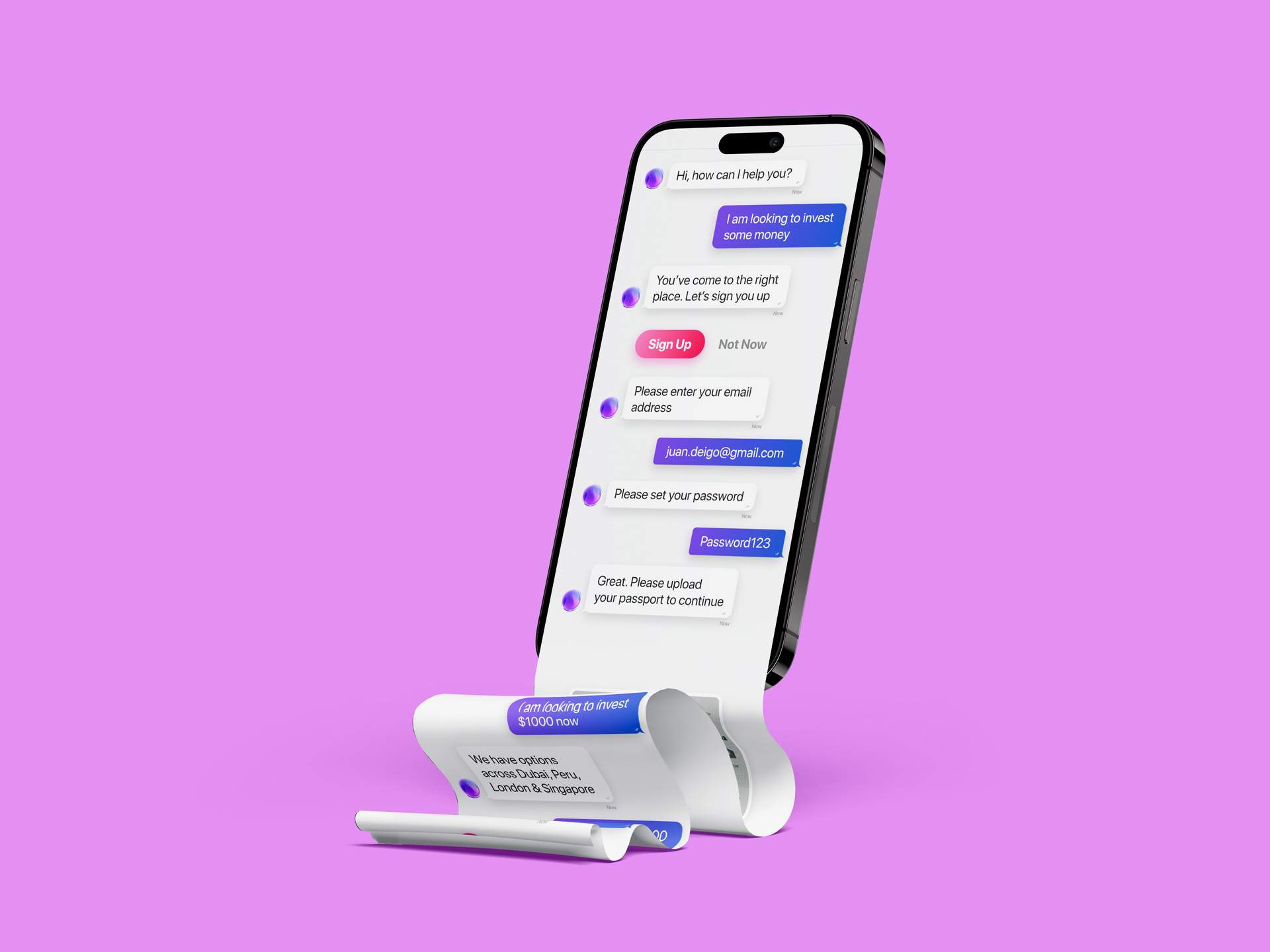 Alpha - Human like Intelligence, Machine Like Sharpness.
Upon collaborating with us, the landscape of the financial services startup's operations saw a profound transformation. The user engagement soared, with the lifelike chatbot driving a 70% increase in sustained interactions. Security frameworks, enhanced by AI and blockchain, led to an 85% drop in fraudulent activities, fortifying user trust. Operational efficiency received a boost, with backend processes being optimized to cut costs by 40%. The granularity of investment options distinguished Alpha in the market, resonating with the users' need for personalized financial solutions. In essence, WhizKey's innovative interventions cemented Alpha's place as a leader in the fintech domain.
The technologies we used to build this product - Alpha
Ready to digitally transform your business?